200,000 Banner Impressions FREE on Charisma Websites for Conducting an Appointment with a Charisma Media Consultant
5 Things You Need to Know About Increasing Donations
You need to stand out. The competition for donations is increasing. Today, there are more organizations/ministries asking for donations than ever before. You must do something to differentiate yourself and be better than your competition.
Your cause must hit a FELT NEED. People buy first with their emotions and then their logic. If your cause doesn't invoke emotion, you will struggle to get donations.
Communicating regularly is a MUST. It's not enough to wait until the end of the year to start asking for donations anymore. Your competition is interacting with their donors and potential donors every day or at a minimum every week. People want to know and be reminded of where their hard earned money is going. Frequently communicating with an audience builds trust. (Frequently advertising with the Charisma audience is one way to help your brand stand out)
Trust is everything. Today's donors want to know where their money is going. Many organizations make donation use vague in an effort to spread the money across resources. While this makes sense internally, it does not help the organization build a donor base.
Platform changes the game. People won't donate if it is not easy. Ease when donating actually adds to trust! If your platform is outdated, donors won't believe their card information is safe and they may even develop a negative brand image.
Survey Research About the Generous Charisma Audience:
Average yearly income $100,000
Average Net Worth $300,000
81% give to a non-profit or charitable organization in addition to their church
Our promises to you:
We will make sure your message meets a felt need of our audience.
We will help you call out the right target audience for your organization.
We will set proper expectations.
We will guide you along the path to increase donations through our proven process (Click here for a great charitable organization testimony)
Start Increasing Donations
Resources to help you
increase

sales and donations

: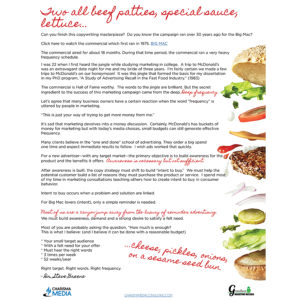 ONE-SHEET | CRAVE CONTENT THAT CONNECTS
Content producers must know that our audiences aren't looking for more content. There is an overpopulation of content. Consumers can't see it all, hear it all or even find it all. People land on our web pages in hopes of a connection.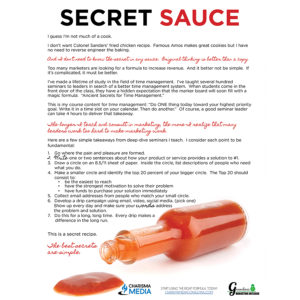 Too many marketers are looking for a formula to increase revenue. And it better not be simple. If it's complicated, it must be better.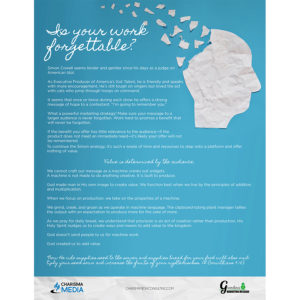 Is your content memorable? If your content or offer is not relevant to your audience, it is easily forgotten.